September 7 – 9
Centre des congrès de Québec, Quebec City
Registration Opens January 16
From September 7-9, Conservatives from coast-to-coast will be joining together in Quebec City, Quebec to set the course for 2023.
We will be voting on party policy, training for the next election, and listening to inspiring conservative speakers while enjoying the beauty of Quebec City.
Early bird tickets are available now! Be sure to receive your discounted price and secure your place at our first in-person convention since 2018!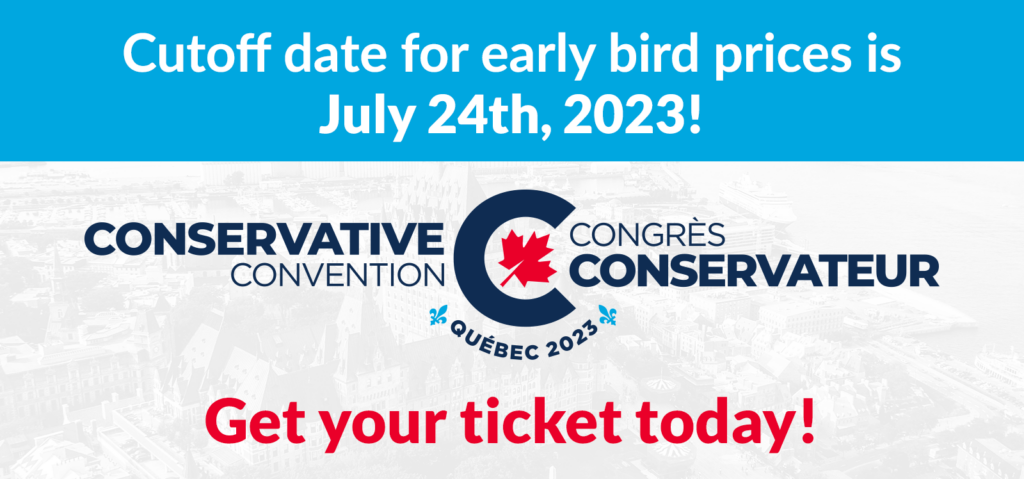 Hotels
You must be 18 years of age and have a credit card to book a room in Quebec City.
All hotels are non-smoking.
Starting at $335 /night
Hilton Québec
SOLD OUT
Starting at $309 /night
Marriott Quebec City Downtown
SOLD OUT
Event Schedule – *Subject to Change
Thursday, September 7
1:00 PM – Registration Opens
7:00 PM – 9:00 PM – Opening Ceremonies
9:00 PM – 12:00 AM – Hospitality Suites
Friday, September 8
7:30 AM – 5:00 PM – Registration Opens
8:30 AM – 9:00 AM – Conservative Fund Report
9:00 AM – 12:00 PM – Constitution Breakout Session
9:45 AM – 4:15 PM – Training Sessions
12:00 PM – 1:30 PM – Lunch
1:30 PM – 3:00 PM – National Council Candidate Speeches
1:30 PM – 4:30 PM – Policy Breakout Sessions
5:30 PM – 7:00 PM – Main Event – Speeches
9:00 PM – 12:00 AM – Hospitality Suites
Saturday, September 9, 2023
8:00 AM – 10:00 AM – National Council Election
9:00 AM  – 10:00 AM – Maple Leaf Awards Ceremony
10:00 AM – 12:00 PM – Constitution Plenary
1:30 PM – 4:30 PM – Policy Plenary
4:30 PM – 5:00 PM – Closing ceremonies with National Council Election Results
How do I request to book an onsite hospitality suite?
Interested in volunteering?
Get involved at our 2023 Conservative Party Convention today!
All volunteers must be bilingual, live in close proximity to our convention center, and be a current member of the Conservative Party of Canada. We greatly appreciate your interest in joining our team.

Please follow this link if you meet all three pieces of criteria:
conservative.ca/cpc/convention-volunteer/

If you have any questions about volunteering, please email volunteer@conservative.ca for more information
Do I need to be a member to attend and what are the registration options?
You do not need to be a member to register and attend our conventions. We offer a variety of registration options for members and non-members.
Early bird prices are only available until July 24th.
What form of payment is accepted?
You can register online at https://cpc23.ca/ using your personal VISA, MasterCard or American Express credit card. All registrants will receive a tax receipt for the registration fee less the value of tangible benefits provided to registrants at the 2023 Conservative Party Convention. This net amount can be reported as a 2023 federal party contribution for tax purposes. For more information about donations and tax credits, please visit the CRA website and Elections Canada.
What does my registration fee include?
The purchase of a registration fee entitles you to:
Access to Opening and Closing Ceremonies;
Access to the Leader's Keynote Address;
Security entrance badge into the Conservative Party of Canada National Convention in Quebec City for all three days;
A delegate kit including a bag, convention schedule and City of Quebec information;
Lunch on Friday and Saturday;
The right, for elected delegates only, to participate and vote on policy and constitution amendments;
The right, for elected delegates only, to vote for your provincial national council representative;
Networking opportunities with fellow conservatives members from across Canada;
Information on availability of hospitality suites;
A tax receipt which may entitle you to generous political tax credits on your next tax return.
How do I become a delegate?
Delegate Selection Meetings are now open February 24 to June 7, 2023. Your local Electoral District Association (EDA) will hold a delegate selection meeting during this period where applications will be considered. If there are more than 10 applicants from your riding, there will be a vote held to select your riding's delegates. The full rules can be found in the documents section below. Please contact your local EDA and monitor their website regularly for updates. If there are any further questions, please contact the National Service Desk at 1-866-808-8407.
What happens if I am not selected as a delegate?
You may register as a Member Observer. You will be able to attend all Convention programming and debates but will not be able to participate in the debate process or vote on policy proposals or constitution amendments. Only delegates are able to debate and vote on the business of the convention.
How will I know if I have been selected as a delegate?
If you have been elected as a delegate for your riding and are not present at the Delegate Selection Meeting for the announcement of elected Delegates, you will be advised by phone call or email (or both) from the EDA President or Regional Organizer.
How do I submit a proposal for Policy or Constitutional Amendment?
Proposals are submitted through your Electoral District Association (EDA). Each EDA is permitted to submit proposals and to vote on proposals using one designated account per EDA. Please contact your EDA President, Policy Committee Chair, or Constitution Committee Chair to engage in this process.
How are the final proposals and amendments to be debated at the Convention?
The top ranked proposals in both constitution and policy, as drafted by members through their EDAs, and advanced through sanctioned Regional Meetings or voted on by members through their EDAs on the "Ideas Lab" will be presented to delegates at the convention workshops by the sponsoring EDA. A recognized representative of our elected Caucus will then have an opportunity to provide their perspective. Delegates indicating a desire to speak to any submission once introduced may be recognized by the moderator to speak to the proposal. The moderator will alternate from those in favor and those opposed as outlined in the convention debate rules.
When will policy voting take place?
Voting will take place at the National Policy Convention held in Quebec City from Friday, September 8 to Saturday, September 9.
How do I run for a position on National Council?
The Rules and Procedures for the Election of the National Council and the Application Form will be posted shortly.
"*" indicates required fields